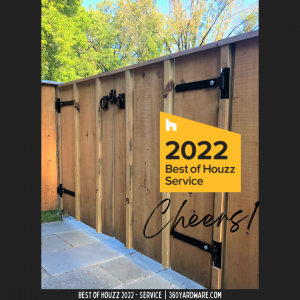 If you've been tasked with or inspired to complete a home improvement project in the last many years, you might have turned to Houzz (on their website or app). While oftentimes it can be a rabbit hole, Houzz is CHOCK FULL of project ideas, professionals and shopping opportunities to take your home or yard to the next level.
For 2022, Houzz has awarded us Best in Service, to which we say, 'Cheers!' We consistently strive to provide our customers with the best experience possible – from planning their (or their client's) projects, straight through to delivery and troubleshooting any installation questions. Here's just one of many 5-Star customer service appreciation reviews, from Ben Leland Construction in Encinitas, CA:
"Wonderful product, best customer service in the business, and very quick with deliveries. This product is worth every penny and would make a great addition to any home. We will use them again and again."
We can't get enough of hearing these types of reviews, which has fueled us every day that we've been in business. Our appreciation goes out to each one of our customers, as well as to Houzz, for recognizing us.
360 Yardware
is proud to have been awarded the Best of Houzz honor for TEN YEARS!