A few quick words about choosing pool gate hardware. Most municipalities have specific regulations about installing hardware for pool
enclosures. They may include:
requiring the latch to be on the inside OR outside of the gate (depending on your city)
requiring self-closing spring hinges;
specifying the height of the latch placement;
that the latch be self-latching; and
that the gate be lockable
Self-Closing Hinges
We carry self-closing spring hinges for pool gates. They are available in a number of finishes. They also have an adjustable spring that can be set to your level of spring. There are two options when using spring hinges. First, you can use three spring hinges to hang your pool gate. You'll need to adjust the tension in the spring so that it closes the gate effectively but doesn't slam it. The second option is to use two heavy duty ball bearing butt hinges (that aren't self-closing) and one self-closing hinge. For most average sized gates, one or two self-closing hinge will suffice. Self-closing hinges will always be installed as the center and/or bottom of the three hinges.
Latch Placement
Usually if there is a requirement for a latch height, it relates to the latch handle being out of the reach of children's hands. Any of the latches we sell can be placed at whatever height you'd like. The photo below is a pool entry gate.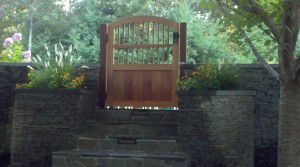 Self-Latching Gate Latches
Any spring-loaded gate latch is self-latching. Self-latching means that when you push the gate closed, you don't have to manually place the latch-arm in the keeper or strike. A spring-loaded latch's arm will automatically snap into place when the gate closes.
Lockable Gate Hardware
When you need to be able to lock a pool gate, there are really two options. First is to choose a lockable gate latch. Unfortunately, in the world of architectural gate latches, there are currently no lockable gate latches that fit the requirements of a pool gate latch that cost less than $1000. An alternative is to use a deadbolt along with the gate latch of your choice. A deadbolt will allow you to keep the gate locked when needed, or open when everyone is enjoying the pool.
These are just the basics of choosing pool gate hardware. Please be sure to contact your own municipality for your pool gate's requirements.