As an authorized distributor of Coastal Bronze Hardware, we are knee-deep in bronze hardware every day.  We love the heaviness of bronze, its ability to weather any environment, and its stately appearance.
Bronze is on the higher end of the price spectrum, but it is well worth the expense. Bronze is cast in the same vein as iron and aluminum, achieving lovely shapes. Bronze is heavy and substantial and feels great in your hand.
Bronze ages beautifully and because it doesn't have a powder coat finish, there is no risk of chipping. If you live in a rust prone area, bronze is an excellent choice. Left to its own devices, bronze will darken to a lovely dark copper penny color, then eventually patina green. In terms of maintenance, applying a coat of wax annually will protect your latch, prevent patina, and ensure a long life.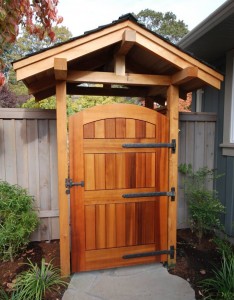 Bronze Gate Latches
Bronze gate latches come in many styles, including traditional, contemporary, and old world.
They typically fit gates ranging from 1-1/2″ thick up to 5″ thick. With any gate latch, a gate stop is required.
Click here to view the full collection of Coastal Bronze Gate Latches.
Bronze Gate Hinges
When you choose a bronze gate latch, it's ideal to use bronze hinges. There are two types of bronze hinges available: strap hinges and butt hinges. Strap hinges (shown above) are visible on the surface of the gate, so they add an architectural detail to the whole installation.
Butt hinges are barely seen when a gate is closed. Details like ball or steeple tips can add a surprise to your gate! Click here to see the selection of butt hinges and strap hinges.
Bronze Locks & Deadbolts
Options for locking a gate include a deadbolt or slide bolt. Both choices are available in bronze. The single cylinder deadbolts will fit doors and gates up to 4″ thick.  They offer a key on one side and a thumbturn on the other, and are operable from both sides. Slide bolts are operated from just one side.
Bronze Pull Handles
Decorative pull handles can be used in so many ways. They help tie together an installation. Whether it's a dummy handle on a double gate or a decorative pair of handles on a garage door, even if they're not serving a function, they attract the eye.
Click to visit the Decorative Pull Handle section of our shop.