We've begun calling 2011 "The Year of the 5-inch Thick Gate". Prior to this year, the average gate thickness has been about 2″. With the advent of contemporary horizontal plank fencing and gates, the thickness has grown.
We introduced several latches this year that can accommodate thicknesses up to 5-1/2″. The problem always came when clients needed to lock those thick gates. Normal deadbolts can only fit gates and doors up to about 3″. So we set about engineering a modification to our stainless steel deadbolt that would allow it to work flawlessly with thicker gates and doors. Several months later, success!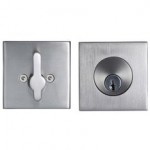 We're thrilled to introduce the stainless steel square deadbolt that will fit gates and doors between 3″ and 5-1/2″ thick. Lead-time is one week.