Determining which gate hinges you need for your new gate can be complicated. You'll need to contemplate the weight and dimensions of your gate, your geographic location, and a few other special considerations. Not only do you need a hinge that will support the size of your gate, you'll need to figure out what type of role you want the hinge to play in your gate's appearance.
Architectural Element or No? The first factor to mull in choosing a gate hinge is whether or not you'd like the hinge to play a role in the appearance of the gate. Our hinges fall into two broad categories: butt hinges and strap hinges.
Butt hinges are the type of hinge you see on your front door. They do the job and keep to themselves–the only visible part of the hinge is the cylindrical barrel. [To see our selection of butt hinges, click here.]
Strap hinges make an impression in a way that butt hinges do not. Strap hinges are comprised of a strap and pintle–usually the pintle is attached to the gate post and the strap is attached to the gate. The strap slips over the pintle pin and you've got an installation! Strap hinges are visible when the gate is closed, so they add to the appearance of the gate. [To see our selection of strap hinges, click here.]
We have one new type of heavy duty gate hinge, which is a hybrid of a butt hinge and strap hinge. It's called the H hinge and it's able to hold a lot of weight. It's visible when the gate is closed, but in a more modest way than a traditional long strap hinge. Along the same vein, we have sets of stainless steel lag pintles and center hinges, which are visible when the gate is closed, but are also modest in size.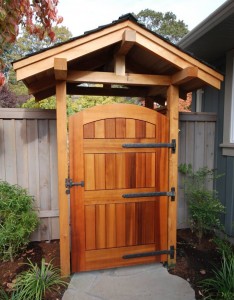 Weight and Dimensions: If you have a small to mid-sized gate, under 42″ wide and ~1-1/2″ thick, we suggest a set of three ball-bearing hinges. It might be more support than your gate will need, but we like to be conservative with them. The 4-1/2″ stainless steel hinges are the ones we use. They've available in black finish, bronze finish, and stainless finish.
For mid-size gates, ~42″ wide (or a little more) and ~2-1/4″ thick, we always use a heavy duty ball-bearing hinge.
Large garden gates, depending on their construction (are they fully panelled or are there spaced pickets that lighten the gate?), sometimes can use a 4-1/2″ or 5″ ball-bearing hinge. Oftentimes, though, people prefer to use a strap hinge and pintle set for the added stoutness of the hardware. We offer several options for strap hinges (stainless steel or bronze), as well as a dark bronze "H" hinge, which is installed to the surface of the gate and post in the same way a strap hinge is. The "H" hinge is really nice alternative for folks with arch-top gates who can't use a traditional long strap to hang their gate. At only 5″ wide, the "H" hinge is suited for that!
[To see our selection of Heavy Duty Gate Hinges, click here.]
Larger Gates: Over 48″ of width and there's not really a situation where we would suggest a butt hinge. The wider the gate, the more it's going to be pulling away at the top (try holding your arm out straight to your side for an hour and watch your fingers start to lower). At this width we move to hybrid hinges (like the H below) or straps.
Choosing Strap Hinges
Sizing strap hinges is pretty straightforward: choose a length of strap that is 25 to 33% of the width of the gate or door. So if it's a 5 foot wide gate (60″), choose a strap that is 15″ to 20″ long.  If the gate is up to 6 feet high, one pair of hinges should do it. If it's over 6, add a third hinge. The thickness and weight of the gate might play a part – for example, a 5″ thick ipe gate may need a longer hinge (or additional hinge), while a 2″ thick cedar gate would just follow the regular guidelines.
Location, Location, Location: Choosing hardware should be done with your geography in mind. Coastal locations and areas affected by industrial air quality should choose either bronze or stainless steel. All other locations – unless you're in a highly industrial area – can use any material.
Special Considerations:
Double Gates: When choosing hinges for double gates, think of them as two single gates. Consider their weight, dimensions, and location and choose accordingly. Just order double the quantity!
Self-Closing Gates: Most municipal pool gate codes require a self-closing hinge. Spring hinges, as they're also called, are a butt hinge with a spring integrated into the barrel. We offer Stainless Steel Self-Closing Hinges (including a stainless steel spring) that hold up to 60 lbs with a pair of hinges, or 110 lbs with a combo set of three. [To see all of our Self-Closing Spring Hinges, click here.]
To see all 360 Yardware's collection of hinges (strap hinges, butt hinges, and heavy duty hinges)…click here.