We love hearing from happy customers! Here are some of the comments and testimonials we've received over the years from satisfied clients. You can also read some reviews here at Houzz.
---
"I was building a shed in the backyard from some shed plans, and it has been a fun project, but I thought if I am going to invest labor and money into this, why would I want crummy hardware? Home Depot plain steel hinges isn't going to cut it. I like to give great feedback to great businesses. Your website was awesome and clear."
---
---
"Your customer service is the best I have experienced in years across so many companies. And I wanted you to know it is greatly appreciated. Best, L."
---
"We sold our house in Calif and couldn't take the fence with us to Arizona, so I will build another soon I hope and am looking forward to using some of your hardware again." 
Thank you – as well as purchasing real hardware I feel like I am communicating with real people. -Steve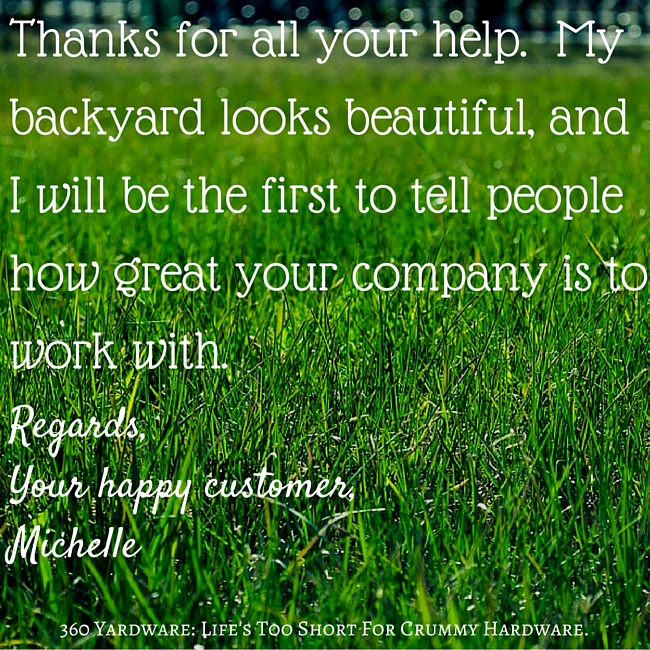 Your hardware is beautiful and I am happy to support American businesses like yours. I am recommending you to several of my designer / contractor friends as I write this…Thanks! -Todd
I really appreciate the knowledge and attention to detail. Makes it a pleasure to buy from such a company!
Aloha and thank you! Much appreciated. Also wanted to let you know that I was searching far and wide for the appropriate product, and 360's products and website facilitated my decision on the hardware selection. -Bryce.
Thank you for going above and beyond with your service!
---
Just received my locks, thank you for getting them to us so quickly!
Everything is so well made and exactly what I hoped for! Very big props to you and all who work at 360Yardware! It's cool to see some businesses still believe in doing things right and taking pride in there products while providing amazing customer service.
Locks arrived today. Just what I needed and super fast! Thank you!
I never got a moment to thank you so very much for helping us so quickly and wonderfully with the gate latch! The new one has been working so well!
I have just realised I never thanked you for your superb service and fantastic handles. They look stunning and my customer is delighted. Despite the distance it was a very easy and pain free process and I shall certainly use you again if I am asked for this quality of hardware. -Steve (UK)
Thank for all your help. It was so pleasant to work with someone who really knows their products.
Thanks so much for all your help with my garage door hinges. They work great! That's why I returned to you when it was time to pick a latch for the same doors. Thanks again!
I really appreciate the knowledge and attention to detail. Makes it a pleasure to buy from such a company!
I just opened the box — BEAUTIFUL — the pulls are nicer than I was anticipating. What a great deal and what fantastic service!
Thanks again Jana! It's been a pleasure to shop at 360Yardware. I will recommend you to all my friends. Wait 'til they see my numbers! – Deb
Thank you for the message and for your attention. Special thanks for your judicious advice when ordering. – Henry
Thanks again for all your help and great service. I will be more than happy to recommend your company in the future. – Mike
THANK YOU SO MUCH!! Service from you has been fantastic. I am sure that I will be asked where the hardware is from on these gates – and will be sure to highly recommend you! – Ann
Thanks to you, best customer service I have ever encountered. Would definitely use 360Yardware again.