Modern Condo and Office Numbers and Letters
We have two  ways to mark offices and condos with numbers and letters. The first is via a self-adhesive backing. This allows for a simple installation (simply clean the target area before you begin and then work carefully to align your digits). The adhesive is exterior grade, and appropriate for both interior doors and exterior doors. The second option is via a plaque. We can custom-create plaques with unit numbers, oriented either vertically or horizontally. The plaque comes with four powdercoated wood screws for an easy installation. The numbers and letters have 5/8″ standoffs behind them for a dimensional look.
The numbers can be either 3″ or 5″ high depending on preference.
Plaque sizes range depending on the size of number you choose and the orientation.
3″ and 5″ Self-Adhesive Stainless Steel Letters and Numbers
These modern door numbers are either 3″ or 5″ tall, made of solid architectural grade stainless steel. Brushed finish. They can be used in many ways to suit your needs. Choose from the full alphabet, numbers, and punctuation to create virtually any phrasing for your personalized office signs.
Apartment Door Numbers (e.g. "Apt. 4" or "4")
Conference Room Signage (e.g. "Conference Room")
Commercial Building Sign (e.g. "The Maynor Building")
Custom Office Signs (e.g. "Restrooms")
Dental Office Signs (e.g. "Exam Room 1")
Doctor Office Signs (e.g. "Reception")
Exam Room Numbers (e.g. "Exam Room B")
Hotel Signage (e.g. "Elevator")
Hotel Room Door Numbers (e.g. "423")
Inside Address Business Letters (e.g. "Suite C")
Medical Office Door Signs (e.g. "Dr. Johnson")
Office Door Lettering (e.g. "Lab"
Waiting Room Signs (e.g. "Waiting Room")
For Condo and Homeowner Associations, we offer a bulk discount of 8% and free shipping on 3″ and 5″ number. Must order at least 30 numbers/letters. Enter coupon code "ASSOC". Please call us with any questions. 866-923-9273.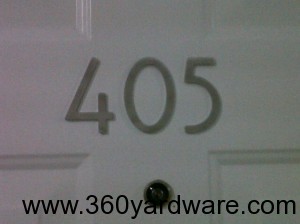 Plaques with Condo Unit Numbers
With plaques you have additional choices in terms of coloration. You choose the plaque finish and orientation to truly customize the look. Approximate plaque sizes depend on the quantity of digits and the size of number you select. The black "7787" is made with 5″ numbers and is offset for a more contemporary look. The finished plaque is 7″ high x 18″ wide. The rust colored "PH3″ plaque is a vertical plaque with 3″ letters and numbers. Finished size is 4″ wide x 12" high.
What's Available
Digits: "0", "1", "2", "3", "4", "5", "6", "7", "8", "9". (The number 1/2 is subject to availability; please call).
Alphabet: The full alphabet is available in the HouseArt font
Punctuation: Period, Comma, Plus Sign, Dash Sign, Arrow and Ampersand (&) (Call for availability)
Finishes Available
Dark Bronze
Satin Black
Rust
Miami Mango
Bonita Blue
Key Lime
Contact us to discuss your plaque orders.